Analytics & Insights Forum
Analytics & Insights Forum
Committee Tri-Chairs: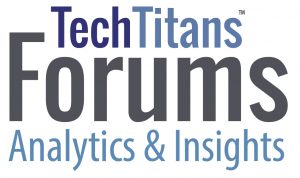 The mission of the Analytics & Insights Forum is to bring together functional and technical experts to:
advance the knowledge and understanding of how data is used
identify solutions and use cases
encourage the growth of the analytics community in North Texas
Data can be hard to process or manage for both technology and non-technology companies. What to do with the information, how to govern it and how to analyze it to make the everyday decision-making process more strategic and critically successful are driving the needs for industry experts to share their stories and solutions.
Our goal is to give you a place to network, explore use cases, and drive partnership and the promotion of data analytics. We achieve this goal by holding 4 to 8 events per year, open to the public, on 2nd & 4th #TechTuesdays. Check the calendar for upcoming #TechTuesday and other events.
All forums can participate in the annual Tech Titans Expo.
A benefit of Tech Titans membership is participation in Forum teams:
Enhance your professional network with other Tech Titans members invested in analytics & insights
Develop contacts with speakers and panelists that are leaders and experts in their fields
Chair or moderate programs in front of the Analytics & Insights Forum audience
The committee meets monthly on the second Thursday at 8 am. Forum events are held 4 to 6 times a year. To join the Analytics & Insights team, fill out our volunteer form.
If you are interested in sponsoring the Tech Titans Analytics & Insights Forum, please contact us.
Check out the speakers and topics we've featured in years past.
July 27, 2021
What the pandemic taught us about the risks of bad data
Speakers:
Eric Haney, CTO, Lone Star Analysis
Gadalia O'Bryan, vice president, data & analytics, National Audubon Society
March 9, 2021
Establishing data literacy in support of a data-driven organization
Speakers:
Radha Mahapatra, professor & chair, information systems & operation management, College of Business, UT Arlington
Brian White, VP region North America support & repair, Ericsson
View a recording of the event:
September 23, 2020
How to get buy-in from the C-suite for data analytics
Speakers:
Scott Miller, managing director, Sendero
Josh Power, advanced analytics, automation & AI at Oncor Electric Delivery
View the recording of this event:
April 28, 2020
Data privacy in analytics during the COVID-19 pandemic:
How do we balance privacy vs. the need for information?
Speakers: