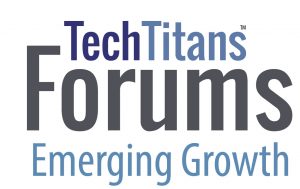 The mission of the Emerging Growth Forum is to bring together business leaders from emerging growth tech companies to learn from each other and provide access to professional and other resources they need to be successful in North Texas.
We have a plethora of emerging growth Tech companies in DFW. We define emerging growth as $2 million in revenue to $200 million in revenue, but more often these companies will range from $2 million to $75 million. These companies face unique challenges as they grow their business such as access to capital, scaling the business, intellectual property rights, regulatory and compliance matters, financial reporting and exit options. Startup have access to accelerators such as the Capital; large enterprises have deep resources and connections. Emerging growth companies need education from and access to subject matter experts that they may not be able to connect with otherwise.
A benefit of Tech Titans membership is participation in Forum planning committees:
Enhance your professional network with other Tech Titans members invested in emerging growth companies
Develop contacts with speakers and panelists that are leaders and experts in their fields
Chair or moderate programs in front of the Emerging Growth Forum audience
The committee meets on an as-needed basis.  To join the Emerging Growth team, fill out our volunteer form.
If you are interested in sponsoring the Tech Titans Emerging Growth Forum, please contact us.
Topic:
What's working, what's not in employee retention and recruitement
Speakers:
Harry Jones, shareholder, Polsinelli