Recognizing innovative education during trying times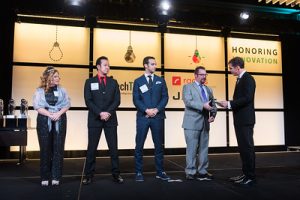 At Tech Titans recognize that our STEM educators have been world-class innovative problem solvers about how to continue to inspire our students during these challenging times.
Generally we award an award to a high school STEM teacher during our annual Awards Gala. This year, we have also pivoted and want to recognize 10 STEM teachers or staff for their innovative work during 2020.
The week of Jan. 11, the nominations window will launch for the new STEM Excellence Award - honoring teachers demonstrating creativity and leadership as they've inspired students to pursue STEM careers.
Nominees must be a teacher or staff member of an ISD in a North Texas public or private high school (grades 9-12). Only one employee per high school may be nominated. In order to make sure that only one appropriate nominee is chosen, the approval of the school principal is required.
A nomination will require completion of a nomination form that includes one student testimonial.
Nominations will close Feb. 12, 2021. Winners will be awarded at the annual Tech Titans STEM Video Contest awards virtual ceremony in early March before spring break.
Please note that this award is separate from the annual Tech Titans Awards Gala in 2021. Your nomination for this STEM Excellence Award can be modified and submitted for the 2021 Tech Titans Awards when those nominations open in the coming months.
Since this form cannot be saved as a draft and must be completed in one sitting, the fields that require a bit more planning to complete are provided below.
Name of nominated teaching technique/program (50 character max)
Describe the innovated STEM technique or program and the adjustments made to accommodate an online learning environment. (2500 character max)
Describe how the nominee has championed students using a supportive, flexible, accessible, and empathetic approach in challenging times. (2500 character max)
Please note you may upload a lesson plan, image, or video (10 GB max) to support the nomination (This is optional)
Please note you are required to upload a student testimonial.
A student testimonial can be in any format but please guide the student to create a concise, clear, and compelling case for the nominee's innovation with their curriculum and care for students. Use nomination criteria to guide the student's response.