Qorvo inspires next generation through STEM initiative
How do STEM careers start? Marvin Harris, foundry engineer with Qorvo, Inc. (photo at left), knew he wanted to become an engineer in seventh grade after attending a summer outreach program at Purdue University. "I fell in love with electrical engineering," he said. He earned a bachelor's degree in electrical engineering from Purdue and master's degree in electrical engineering from Georgia Tech.
What teachers have to say about the STEM Video Contest
The STEM Video Contest, sponsored by State Farm, creates excitement about future technologies and career opportunities while filling the Tech Titans vault of compelling digital content for elementary-age students. Teachers are instrumental in driving student involvement in the competition. Last year 175 students participated, representing 11 schools in six school districts.
Cisco's Webex bridging the gap to reach diverse students
Empowering students from diverse backgrounds is a passion for Lymari Ames, a project delivery lead at Cisco Systems, Inc., who herself came from a Hispanic background. When she talks to students about STEM careers, Lymari tells them that her job is to break things and then fix them. Kids relate to her personal story which included entering college as an undeclared major, graduating with a degree in electrical engineering and working on the cutting-edge technology that we know today as text messaging.
UT Dallas knows STEM-love starts before the university level
"I cannot tell you how energized I am every time high school students come to the UTDesign Makerspace studio for a Tech Titans workshop, and every time I talk to kids about STEM careers," said Rod Wetterskog, assistant dean of corporate relations for UT Dallas. Tech Titans' STEM partnership with the Tier One university is essential to the success of the STEM initiative. Rod, an "engineering physics guy" by training and six-year member of the Talent Team, has hosted numerous on-campus events for busloads of wide-eyed students. He's the enthusiastic emcee with a sports-announcer voice for Tech Titans' engineering challenges, presentations and panels.
Volunteering at every career and life stage
Lynn Mortensen is passionate about getting kids engaged with STEM. "If we don't show them what they can be, especially girls and minority children, they often don't have a clue."
While vice president of engineering at Raytheon, Lynn served as the company's Tech Titans corporate representative. At retirement, she joined the newly formed STEM committee, committing her time and energy to inspiring a new generation of engineers from diverse backgrounds. She was recognized as one of Tech Titans' 2019 Volunteers of the Year for her leadership of the popular annual STEM Video Contest sponsored by State Farm.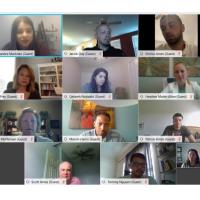 STEM inspirations go digital
Dave Galley, director of the STEM workforce initiatives for Tech Titans, was looking forward to the Talent Team's biggest year yet in 2020: more events scheduled, in more schools for more kids and the launch of new events, all powered by a growing volunteer base and committed corporate sponsors.
By the first week of March, volunteers had already logged a thousand-plus STEM inspirations for the year, for a total of nearly 15,000 since the initiative began. Numerous spring and summer dates were on the calendar for panels, hands-on engineering design challenges and speed mentoring events.
Tech Titans STEM Challenge
Students have gone virtual. So has the Tech Titans STEM initiative and our ongoing commitment to inspire students to choose STEM careers.
Trying to learn from home represents so many challenges. For many North Texas students, increased food insecurity is exacerbated by the COVID-19 crisis.
The Tech Titans STEM Challenge motivates middle and high school students to learn about STEM and earn $50 gift cards their families can use during this trying time, by researching and responding to the weekly questions.