Cybersecurity Forum
Committee Tri-Chairs: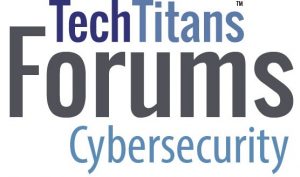 The mission of the Cybersecurity Forum is to create an information security community that provides a place for thought leadership, education, industry development and building relationships through professional engagement. 
Tech Titans Forums are groups created around the latest technology topics of interest where new members may engage to share ideas, promote new business opportunities, secure new business partnerships and explore new areas of business focus.
A benefit of Tech Titans membership is participation in Forum planning committees:
Enhance your professional network with other Tech Titans members invested in cybersecurity
Develop contacts with speakers and panelists that are leaders and experts in their fields
Chair or moderate programs in front of the Cybersecurity Forum audience
The committee meets monthly on the third Thursday at 8:00 am. Forum events are held 4 to 8 times a year. To join the Cybersecurity Forum, fill out our volunteer form.
If you are interested in sponsoring the Tech Titans Cybersecurity Forum, please contact us.
Check out the speakers and topics we've featured in years past.
December 14, 2023
3:30 - 6 pm
Richardson IQ HQ
1302 E Collins Blvd, Richardson, TX 75081

Your organization has been breached, now what? 
In today's digital landscape, it is not a question of IF your organization will face a cyberattack, but rather WHEN it will happen. Striking the right balance between withholding critical information from regulators and avoiding excessive disclosure that might lead to unwarranted lawsuits is crucial. Is your organization prepared to act decisively and effectively when a cyber attacker penetrates your defense-in-depth strategy? Join our esteemed panel of experts as they share best practices for responding to security incidents, providing invaluable insights to help your organization navigate the complexities of cybersecurity incident response.
Panelists:
CISO:  Syed Barber, Sbase Technologies
Risk Management/Insurance: Joe Guerrero
Risk Management/Accounting/Finance:  Brian Nichols, Baker Tilley
Panel Moderator: Shawn Tuma, Spencer Fane Dallas, LLP
Recent Events
September 20, 2023
Staffing – Building the Cybersecurity Pipeline
Panelists:
Andy Ulrich,
Ericsson North America
Carolina Selvidge,
Citizen Diplomat
Becky Barker,
Dallas ISD
Jason Alvarado,
Dallas College
Moderator: Barbara Theulen
AT&T
June 14, 2023
United States vs. CISO:  Accountability or Witch Hunt? 
Panelists:
Shawn Tuma, Spencer Fane
Shawn Wiora, Maxxsure
Joe Guerrero, Inspira 
Moderator:
David Malicoat, CISO Direct Marketing Solutions
Information on past events can be viewed  by year under Past Events on this page.