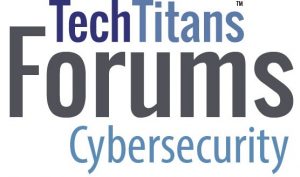 The mission of the Cybersecurity Forum is to create an information security community that provides a place for thought leadership, education, industry development and building relationships through professional engagement. 
Tech Titans Forums are groups created around the latest technology topics of interest where new members may engage to share ideas, promote new business opportunities, secure new business partnerships and explore new areas of business focus.
A benefit of Tech Titans membership is participation in Forum planning committees:
Enhance your professional network with other Tech Titans members invested in cybersecurity
Develop contacts with speakers and panelists that are leaders and experts in their fields
Chair or moderate programs in front of the Cybersecurity Forum audience
The committee meets monthly on the third Thursday at 8:00 am. Forum events are held 4 to 8 times a year. To join the Cybersecurity Forum, fill out our volunteer form.
If you are interested in sponsoring the Tech Titans Cybersecurity Forum, please contact us.
Check out the speakers and topics we've featured in years past.
Recent Events
January 24, 2023
Privacy and Security Smackdown: Go together like Oil and Water? Or PB&J?
Speakers:
Trip Hillman, partner, Cybersecurity Services, Weaver
Hunter Sundbeck, IT advisory manager, Weaver

Moderator:
Brittany George, Weaver
Information on past events can be viewed  by year under Past Events on this page.