The Tech Industry Series is an interactive monthly program focused on technology applications and trends in the high-tech industry. Luncheons are held one Friday a month - typically the third Friday - and feature presentations by industry experts.
2020 Past Tech Industry Series Speakers
January - Pamela Arora, Children's Medical Center
March - Dr. Stephanie G. Adams, UT Dallas
April - Steve Roemerman, Lone Star Analysis
May - Anne Chow, AT&T Business
June - Kaushal Amin, KMS Technology
July - James Klein, Qorvo
August - Dean Jones, Microsoft; Tony Scallion, REDHOUSE Virtual Education; Edmond Maurin, Minsar; Bradley Snyder, Radical Galaxy Studio
Friday, January 22, 2021
Presentation 12:00 pm - 1:00 pm
Networking 1:00 pm - 1:30 pm
Business Transformation: Toyota's evolution to a mobility company
Featuring Mike Bafan, Chairman of Toyota Mexico Manufacturing operations, Group VP, Manufacturing Project Innovation Center at Toyota North America
presented by 
The advancement of AI, the connected car and other technological advances are changing the automotive manufacturing industry. Toyota has taken the next step in this evolution by committing to the development of mobility solutions for people, for the betterment of their customers and society as a whole. Join us to hear:
A case study of how Toyota transformed its manufacturing operations to deliver critical products and services during the COVID-19 pandemic
Toyota's business evolution story: past, present and future
The future of mobility in a CASE (Connected, Autonomous, Shared & Electrified) era
Toyota's vision for the future of mobility and the creation of better ways to move people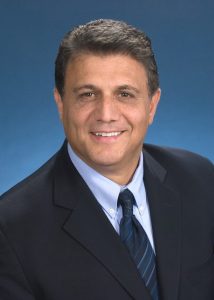 ***Your registration data may be provided to sponsors of this event.***
2020 Tech Industry Series Speakers
Jan 17:   Pamela Arora, CIO, Children's Medical Center
Mar 6:    Dr. Stephanie Adams Dean of Engineering, UT Dallas
Apr 17:   Steve Roemerman, CEO, Lone Star Analysis
May 15:  Anne Chow, CEO, AT&T Business
June 19:  Kaushal Amin, CTO, KMS Technology
July 17:   James Klein, President of Infrastructure and Defense Products, Qorvo
Aug 14:  Dean Jones, Microsoft
Sept 18: David Wagner, CEO, Zix Corp
Oct 16:   Annual Innovators Luncheon
Nov 15:  Lucas Rodriguez, CEO, CerSci Therapeutics
2019 Tech Industry Series Speakers
Jan 25:   Sherif Mityas, CIO and chief experience officer, TGI Friday's
Feb 15:  Jason Fruge, VP and CISO of Fossil Group, David Venable, VP Cyber Security of Masergy, Jeff Schilling, SVP and CISO of Epsilon, Moderated by George Finney, CISO of Southern Methodist University
Mar 22: Calvin Carter, CEO, Bottle Rocket
Apr 26: Jennifer Bartkowski, Girl Scouts of Northeast Texas
May 17: Rahul Saini, Zyvex Labs
June 21: Myron Moser and Kevin Kerr, Hartfiel Automation
July 19: Vanessa Ogle, Enseo
Aug 9: Tech Titans Innovators Luncheon
Sept 20: Andrew Macaulay, Topgolf
Oct 18: Michael Murphy, Nokia
Nov 15: Mamie Jones, Intuit
2018 Tech Industry Series Programs
Jan 27:  Phil Komarny, VP, Salesforce.com
Feb 16:  Dustin Gellman, SVP of Innovation, RealPage
Mar 23:  Gloria Tenofsky, Development Manager, MMRF
Apr 20:  Lou Bachenheimer, Technical Solution Specialist, IBM
May 18:  Barbara Baffer, Ericsson, Ed Lebow, Haynes&Boone, and Don Hicks, UT Dallas
June 15:  Douglas A. Moore, Director of Technology for Human Support, Toyota North America
July 20: Keith Nichols, Director for the Government Portfolio, Thomson Reuters
Aug 10: Tech Titans Innovators Lunch
Sept 21:  Ellen Barker, CIO, Texas Instruments, and Manoj Kumbhat, CTO, Kimberly-Clark
Oct 19:  John Olajide, CEO, Axxess
Nov 16:  Dr. Joseph Pancrazio, VP of Research, UT Dallas, Pete Poorman, Director of Corporate Relations, UT Dallas, Rahul Saini, Director Micro and Biosystems, Zyvex Labs, Shawn Wiora, co-founder and Board of Directors member, MyndVR, and John Bottles, owner, Bailey Tool and Manufacturing
2017 Tech Industry Series programs:
November - "Artificial intelligence:  The promise, threat and legal implications of machines that learn"
Robert W. Kantner, Partner, Jones Day, and Dave Copps, Founder and CEO, Brainspace
October - "Changing the way the world flies with autonomous vehicles"
Michael McNair, Engineer V, Innovation Team Lead, Bell Helicopter, Textron
September - "IT Transformation"
Onyeka Nchege, CIO, Interstate Batteries
August - Annual Tech Titans Innovators Finalists
Corporate Innovation: AT&T ~ Capital One ~ Citi ~ Fujitsu Network Services
Emerging Company Innovation: Axxess ~ Bloodbuy ~ Bottle Rocket ~ FPX
July - "Key success ingredients:  Innovation and culture"
Chris MacFarland, Chairman and CEO, Masergy
June - "Cognitive business in an agile world"
Romelia H. Flores, IBM Distinguished Engineer and Master Inventor, IBM Global Solution Center
May - "Digital Ambition:  Three not-so-rhetorical questions for the Digital Strategist"
Rick Nordtvedt, Ph.D.,MBA, Senior Executive Partner, Gartner
April - "Semi-conductor opportunities for semi-autonomous systems"
Nick Hassan, Director of Advanced Development, Texas Instruments
March - "The Space Race 2.0:  Mobile satellite services"
Matt Desch, CEO, Iridium Communications, Inc.
February - "Validating trust through the use of technology"
Maya Leibman, Executive Vice President and CIO, American Airlines 
January - "Innovation through partnerships with research universities"
Dr. Richard Benson, President, The University of Texas at Dallas
---
2016 Tech Industry Series programs:
November - "When will pizza be delivered by drone?"
Ron Poynter, President, OnPoynt Aerial Solutions

October - "Virtual Reality: The next frontier of media and why it's important"
Lance Loesberg, Founder and CEO, BigLook360

September - "The Future of Work: The Creation of a Collaborative Culture"
Julian Phillips, Executive Vice President, Whitlock
August - Annual Tech Titans Innovators Finalists
Corporate Innovation: Martin Marietta - Masergy - Nokia
Emerging Company Innovation: Bottle Rocket - Brainspace - Dialexa - Tango Analytics
July - Luncheon with Design & Manufacturing
Joanne Moretti, General Manager, Radius Innovation & Development, a Jabil Company - "Driving innovation through customer experience"
June - "Social data's influence on financial markets"
Chris Camillo, CEO and co-founder, TickerTags
May - "As fast as a speeding bullet: the future tech of train travel"
Shaun McCabe, CTO, Texas Railway
April - "The buzz about the environment and sustainability"
Elodie Geoffroy-Michaels, Vice President, Americas Energy & Sustainability, CBRE Global Workplace Solutions
March Happy Hour - The Innovation of beverage
February -
Hope Shimabuku, Director, Texas Regional Office, United States Patent & Trademark Office 
January - "The CEO's Challenge for 2016"
Betty Manetta, Founder, President and CEO, Argent Associates Inc. & Asociar LLC
---
2015 Tech Industry Series programs:
November - Luncheon with Design & Manufacturing
Doug Moore, EVP, COO, Fujitsu Network Communications - "The Shifting Economics of Global Manufacturing"
October - Luncheon with Cyber Security Symposium
Luncheon Keynote - Jeff Schilling,CIO, head of custom operations and security, Armor (formerly know as FireHost) - "Cybersecurity: local to global"
September - Luncheon with BI Symposium
Luncheon Keynote- Allison Cerra, Vice President, Marketing, EG Americas, Hewlett-Packard - "Big Data, bigger questions"
Symposium Speakers:
Paul Ingram, HugeData; Urmil Shah, Texas Instruments; Bryce Engelbrecht, iQor; Matt Dugan, AT&T
August - Annual Tech Titans Innovators Finalists
Corporate Innovation:  AT&T - Methode Electronics - Omnitracs - Qorvo 
Emerging Company Innovation:  Axxess - Brainspace - EnTouch Controls - Ziosk
July - "A user success story - how the cloud enabled dramatic corporate"
Janet DeBerardinis, CIO, Caliber Collison Centers

June - Luncheon with IoT Symposium "The connected oil and gas field"
Luncheon keynote Sha-Chelle Manning, Director, Corporate Innovation at Pioneer Natural Resources Corp.
Symposium speakers:
Ramniklal Mistry, Verizon Wireless; Jeffrey Smith, Numerex; Lance White, PetroCloud; Dilip Sarangan, Compass Intelligence; John Krachenfels, AT&T.
May - "The mobile strategy of enabling technology"
Greg Flory, Senior Lead Strategist, Bottle Rocket
April- "State Farm IT: Using technology to be there for our customers"
Ashley Pettit, VP Systems, State Farm

March - "Mobility: Art of the possible"
Stephen Reiter, EVP, Entegra Technologies
February -  "How the trends in Big Data are changing the way we do business"
Teena Piccione, Assistant Vice President for Solutions Architecture at the AT&T Big Data Center of Excellence
January -  "Mobility revolution: New players and new technology"
Terry McCabe, CTO, Mavenir Systems