The Tech Industry Series is an interactive programs focused on technology applications and trends in the high-tech industry. Luncheons are typically held on the third Friday of a given month - and feature presentations by industry experts.
2023 Tech Industry Series Speakers
2023 Tech Industry Luncheon Schedule
February 17 - Re-Thinking the Workforce of Tomorrow
Sharlene Jenner – VP Engagement Strategy, AbelsonTaylor
Dillon Mahipala – Transformation Leader, North America at Ericsson
Tara Whitehead Stotland – Lead Strategist at Cognizant
Moderator: Diane Magers, Founder & CEO, Experience Catalysts
May 19 - Leadership 2023 - Keys to Leading Teams in Times of Change
Doug Moore, CEO, Fujitsu North America
Jacquelyn Clayborn, CEO, ONC National
Kathy Jones, Employment Experience Manager, State Farm
Jon Davis, Chief Revenue Officer, Matrix Resources
August 18
November 17
Special Tech Industry Luncheon Virtual Presentations
February 27 - Can technology resist Status Quo for the underserved
Michael Pegues, CIO, Aurora, IL
Kimberly Lagrue, CIO, New Orleans, LA
Tanya Hannah, CIO, Aon Corporation
Moderated by E.G. Nadhan, Global Chief Architect Leader, CTO Organization, Red Hat
2022 Tech Industry Series Speakers
January 17 - Simone Severini, Director, Quantum Computing, Amazon Web Services (AWS) - View Presentation
February 18 - CIO Panel with Tanya Hannah, King County WA; Onyeka Nchege, Novant Health; Michael Pegues, Aurora, IL - View Presentation  Read Article - The Enterprisers Project
March 25 - Jason Leiker, Assistant Vice President of ESG, AT&T
April 22 - Female CIO Panel - Heidi Cox, Principal & CIO, HKS; Tracey Francis, SVP of Technology, Bottle Rocket; Gertrude Van Horn, SVP & CIO, NCH Corporation
May 20 - Michael Youngs, CIO, DFW International Airport - View Presentation
June 17 - Kris Fitzgerald, former CTO for NTT Data - View Presentation
July 15 - Dave Copps, CEO, Worlds - Tech Titans Awards Gala Winner Series
August 19 - Neelu Sethi, CIO, Reddy Ice - Tech Titans Awards Gala Winner Series
September 16 - ATT FirstNet - Tech Titans Awards Gala Winner Series
October 14 - Tech Titans Innovators Luncheon
November 18 - Richardson IQ with Amy Carenza, ActivePure, Don Magner, City of Richardson, Ron Nag, MedCognetics and Steve Guengerich, UT Dallas
 

Tech Industry Luncheon 
Presenting Sponsor:

How AI is changing the retail industry
August 18, 2023

11:30 am - Check in desk opens

11:45 am - Lunch buffet opens
12:00 pm - Program begins

1:30 pm - Program adjourns
Clubs of Prestonwood - The Creek
15909 Preston Rd.
Dallas, TX 75248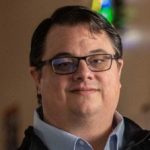 Skip Howard, CEO, Spacee
Machine learning and artificial intelligence are changing the way shoppers buy their goods. Much like the move to online shopping years ago, customer friendly kiosks and automated check-outs using AI are forcing dramatic change at a rapid pace. Leading the way in the use of AI in retail is Spacee. Spacee is a Computer Vision & A.I. company that empowers organizations with near real time Actionable Insights.
Skip will cover the foundational basics of AI, explain computer vision and show how Spacee is doing that has changed the shopping experience while providing value in worth billions. 
About the speaker:
Skip is the Founder/CEO fo Spacee. Outside of Spacee, Skip is passionate about advancing technology knowledge and runs one of the largest Computer Vision Developers group in North America.
Several publications have recognized Skip as a top CEO and innovator, including DCEO (Winner of Innovation in Retail) and Ernst & Young (Finalist for 2019 Entrepreneur Of The Year®). He was named Top 500 most influential business leaders in Dallas by D Magazine in 2020, 2021, 2022 and 2023. He is a member of YPO and EO.
Quarterly luncheons scheduled for The Clubs of Prestonwood, 15909 Preston Road, Dallas, TX 75248
Your registration data may be provided to sponsors of this event.
2022 Tech Industry Luncheon Events