The Tech Industry Series is an interactive monthly program focused on technology applications and trends in the high-tech industry. Luncheons are held one Friday a month - typically the third Friday - and feature presentations by industry experts.
2021 Tech Industry Series Speakers
January 22 - Mike Bafan, Chairman of Toyota Mexico Manufacturing Operations and Group Vice President of Toyota North America's Manufacturing Project Innovation Center
February 19 - Jose R Favilla, Jr, Global Industry 4.0 Leader, IBM Corporation
March 26 - Teresa Mackintosh, CEO, Trintech (2020 Tech Titans Emerging Company CEO Award winner)
April 16 - DevOps Panel: Kevin O'Dell, State Farm; Kodwo Panford, Zix; Courtney Kissler, Zulily; John Willis, Botchagalupe Technologies; and Bryan Finster, DevOps Mentor
May 21 - Joe D'Cruz, Catalyze Dallas and Roger Raley, Alpine Advanced Materials
June 18 - Blair Bardwell and Pari Pandya, AT&T
July 16 - Grant Ecker, VP Global Enterprise Architecture, Walgreens Boots Alliance and E.G. Nadhan, Chief Architect and Strategist, Red Hat
August 20 - Skip Howard, CEO, Spacee
September 17 - Malcom Ross, CTO, Appian
October 15 - Innovators Luncheon
November 19 - Trude VanHorn, CIO, NCH Corporation
2020 Tech Industry Series Speakers
January 17 - Pamela Arora, CIO, Children's Medical Center
March 6 - Dr. Stephanie Adams Dean of Engineering, UT Dallas
April 17 - Steve Roemerman, CEO, Lone Star Analysis
May 15 - Anne Chow, CEO, AT&T Business
June 19 - Kaushal Amin, CTO, KMS Technology
July 17 - James Klein, President of Infrastructure and Defense Products, Qorvo
August 14 - Dean Jones, Microsoft
September 18 - David Wagner, CEO, Zix Corp
October 16 - Annual Innovators Luncheon
November 15 - Lucas Rodriguez, CEO, CerSci Therapeutics
                    presented by  
Friday, July 16, 2021

Presentation 12:00 pm - 1:00 pm
Networking 1:00 pm - 1:30 pm
Remo Virtual Platform
Leading Global Technical Communities: an Enterprise Architecture Case Study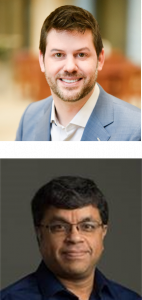 Featuring Grant Ecker, VP Global Enterprise Architecture, Walgreens Boots Alliance and E.G. Nadhan, Chief Architect & Strategist, Red Hat
Many leaders have a challenge of activating strategic and technical talent across their organization.  That is exactly the role of an enterprise architect leader who is sometimes described as part coach, part referee. This designation is appropriate.  Enterprise architects are responsible for decomposing strategy into execution across the enterprise with sustainable solutions. Their challenge? Bringing together diverse IT groups, subject matter experts and technical communities to form holistic teams, and leading them to deliver successful outcomes.
Challenge accepted. In this compelling discussion, two industry leaders discuss their fascinating work and how the enterprise architecture approach can benefit you in bringing multiple generations of technical leaders together across your organizations.

***Your registration data may be provided to sponsors of this event.***