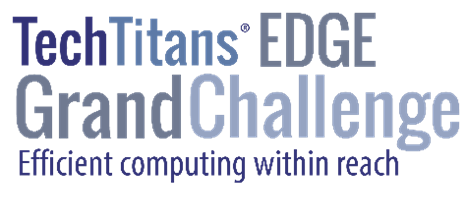 Amy Wheelus
Chair of the Tech Titans board and VP of architecture and strategic planning at AT&T
"Tech Titans is an 'Innovation Collider'.  We believe new ideas are formed when great minds come together, and challenges are resolved the same way.  Together, we use STEM to solve the world's most pressing connectivity issues, and with the help of virtual technology, it's even easier to achieve results regardless of action." 
Where good ideas collide for good
Entrepreneurs designing solutions utilizing edge technology can get feedback, recognition and $20K from Tech Titans and enterprise companies on the cutting edge. In a new Grand Challenge, entrepreneurs submit an application which will be judged by representatives of technology companies, and finalists will be showcased for a live/virtual pitch in front of a panel of celebrity judges.
The challenge will be open to entrepreneurs nationwide. The selected solution(s) will demonstrate how innovative Edge-enabled products help the world return to work and life, and catapult us past the last year's hurdles.  The Edge-enabled solutions can benefit work, life, education or health. Entrepreneurs, start-ups, small and MBE/WBE-certified technology companies should be pre-revenue to revenue less than $2 million. There is no cost to participate. Pitching companies can be located anywhere in the United States, and do not have to be Tech Titans members. Deadline for applications to be submitted is Aug. 16 at 5 p.m. (CT).
Last year's Grand Challenge recipient, Dr. Marge Zielke, director of UTD's Center for Simulation and Synthetic Humans said receiving the award "accelerated our vision for a true virtual human metaverse which combines real life and virtual experiences powered by 5G networks. As a result of winning the Grand Challenge we've worked with a potential corporate partner to push forward our master concept of emergence and made significant progress on the fidelity and capability of our virtual teaching platform. We appreciate the overall support of Tech Titans to help us develop and promote our work and make significant progress toward commercialization."
Awardees will receive:
A minimum cash award of $20K
An invitation to the Tech Titans Awards Gala on Jan. 19
Enterprise-level mentoring that could include access to technology resources and potential customers/partners
Introductions to funding resources
The hope is that the entrepreneur/start-up will receive some form of:
Technology licensing
Funding
Customer/supplier relationships
Strategic partnerships
Other business relationships
The Tech Titans Innovation Collider offers myriad services that enable large companies to partner with entrepreneurs, university researchers and thought leaders to collide, connect, collaborate and create groundbreaking solutions that accelerate business value. These services include providing executive education, extending access to technology expertise and cultivating curated resources.
Questions? Contact Beth Kolman at (972) 792-2817